The Board of Directors led by its newly elected Chairperson, Beryl Okumu, recently toured Kariobangi Sewerage Treatment Works with the aim of gaining a better understanding of the operations.
During the visit, The Board Chairperson, said the Company's manpower is critical to the attain- ment of its mission and vision.
"The workforce is the most important resource that the Company has. With your support we shall ensure your welfare tops our priorities. At the moment, we are working round the clock to resolve pension matter and we are optimistic a solution will be found." She said.
She also said the Board has what it takes to deliver on their mandate and lead steer the organi- zation to greater heights. " I have an action-oriented team and they are going to deliver as much as they can. I also want to thank them for expressing their confidence to have me as their team leader." She added. The Ag. Managing Director Eng. Nahason Muguna thank the staff for their effort in ensuring service delivery to Nairobi residents. "I want to sincerely thank you for your commitment in your work. As a Company we give equal attention to fresh and waste water treatment and you should not at any given moment feel you have been left out. We understand the kind of environment within which you operate." He said.
Present during the tour were Vice Chair Timothy Muriuki and Board Members: Mohamed Abdullahi, Martin Mbichire Kuruga, Emmah Mukuhi and Karen Nyamu.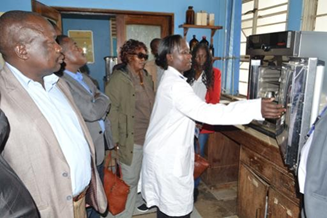 They were accompanied by Ag. Director Human Resource & Administration Ser- vices Monica Tuli ,Ag. Technical Director Eng. Lucy Njambi, Corporate Affairs Manager Mbaruku Vyakweli, Liasion Manager James Karanja and Ag. Environ- ment and Compliance Manager Felix Lukwa. The Board intends to visit Ruai Treat- ment Works, Informal Settlement Region and Ruiru Dam in the coming days.