It is one of the four water treatment facilities operated by NCWSC
The water received and treated at Kabete Treatment Plant originates from Ruiru Dam which is about 29Km from Kabete Treatment Plant.
The plant was first taken into service in 1936 and consisted at that time of a mixing chamber, dosing plant and four rapid gravity filters to treat water from Kikuyu Springs.
In 1938 the 225 mm diameter (9 inch) pipe line from Ruiru was also added.
In 1947 the 300 mm diameter (12 inch) from Ruiru Dam was completed and filters No. 5 and 6 taken into operation. In 1951 the 400 mm diameter (16 inch) pipe from Ruiru Dam was completed, filters No. 7 and 8 taken into operation plus the three sedimentation tanks.
There is also a Central Water Testing Laboratory in Industrial Area, Dunga road managed by Water Resources Authority (WRA). It tests wastewater (partial effluent test) and portable water (physio-chemical test).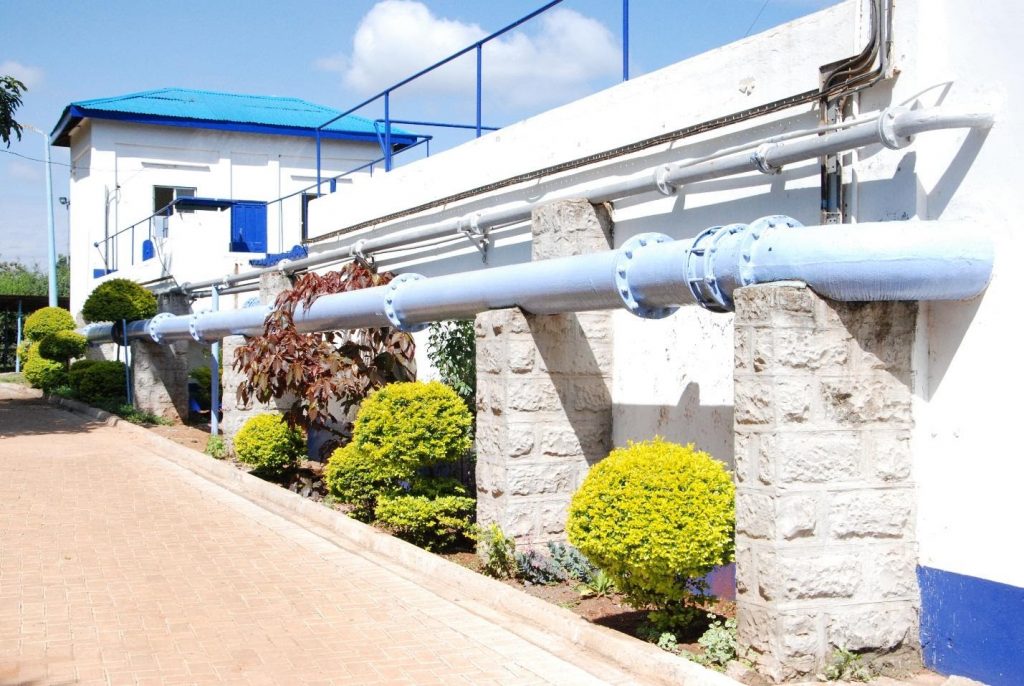 Quality Objective
To treat 20,520m3 per day quality water that meets 100% compliance to NCWSC drinking water quality standards derived from WHO guidelines.
Description of the Plant
A. Inlet Works
The incoming raw water from Ruiru dam makes entry into the plant via three pipes; 16 inch, 12 inch and 9 inch diameter.
The Inlet works has two chambers where some aeration takes place; the 16" and 12" pipes feeds into one chamber where aluminum sulphate (alum) solution is added while the 9" pipes feeds into another chamber.
Water from both chambers passes through a channel about 30 m long by 0.9m wide by 1.1 m deep, along which baffles are placed to create turbulence in order to mix the water with alum solution.
B. Sedimentation tanks
The water then enters three horizontal sedimentation tanks with a surface loading of 1.8 m3/hr, each measuring 30.5m long by 6.4m wide by 3.7m deep at the inlet end.
The tanks have a 1.7m high baffle wall situated 3m from the inlet end of the tank which acts as a flocculation chamber, where large, dense particles called flocs form.
The retention time in the flocculation chamber is 13.5minutes while the retention time in the sedimentation section is 1.9hrs.
Before the outlet of the tank there are wooden booms on the surface to prevent scum being carried over to the filters. The flow rate over the outlet weir is 50m3/hr.
C. Filters
From the collection channel at the outlet of the sedimentation tanks the water passes through a pipe and is then distributed to nine (9) separate rapid gravity filters.
Water is filtered through a 1.08m deep graded sand filter bed to filtered water channel via control valves which are manually operated.
To clean the filters, backwashing is done after 12 to 24 hours depending on the filtered water quality.
All filters are equipped with inlet valves, washout valves, upwash, air scour and outlet valves.
The filtered water passes over a weir into the collecting channel after which it is dosed with chlorine and then soda solutions. The water is then transmitted to a 4500m3 reservoir (Reservoir 1)